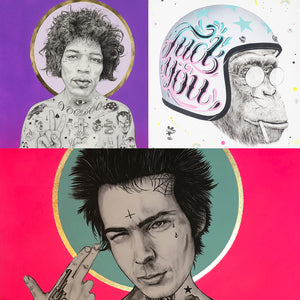 RUGMAN
---
Over the last 18 years, Anthony has worked as a graphic artist in the fashion industry. He has travelled, worked and lived in Glasgow, New York, LA, Paris and London.
As a street artist, Rugman is a popular choice by collectors from around the world.  He has been involved in groundbreaking exhibitions such as the Cans Festival 1 and 2, organised by Banksy and Pictures on Walls.  Rugman was also part of the original Stella Dore gallery roster and made front page news whilst representing the gallery in Dublin at a group exhibition in 2008.  His studio work features in collections of the rich and anarchic such as Travis Barker (Blink 182), Tim Minchin (Comedian/Writer), Joey BadA$$ (US Rapper).
---
Sorry, there are no products in this collection.