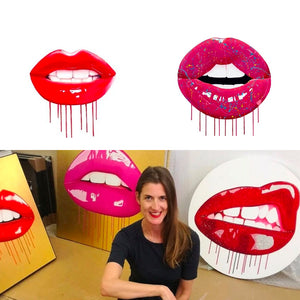 SARA POPE
---
Born in Stoke-On-Trent, Sara Pope left school to study a degree in mathematics. After completing her degree, Sara realised that she could no longer ignore her creative side. She subsequently moved to Barcelona where she completed a course in graphic design, returning to the UK to work in magazines as a designer and art director.  She has since worked as a shoe designer for many high end brands, including Paul Smith and Lacoste, as well as catwalk projects for brands such as Baby Phat, Gharani Strok and consultancy work for Jemima Vine ( a brand championed by Pippa Middleton).
Sara's early commercial work, in fashion, beauty and media proved to be the inspiration for her subsequent artistic endeavours.  Working in oils and acrylic, she makes use of bold, attractive colours with high shine gloss.  Her painting style imitates the slickness of advertising, whilst provocatively subverting its themes. Sara is best known for her seductive paintings of bold, colourful, voluptuous lips. She aims to capture the glamour and seductive power conveyed by a pair of lips. All her paintings from this series start with a photographic shoot, a model and some make up. Exploring the ideas of communication, she asks the model, to think of emotions, love, happiness or flirtation, which she captures photographically. The painting process for these Lip portraits involves several thin layers of oil, being overlaid over each other to create a translucent, glass like quality. Sara is also known for her portraits, most notably having a portrait of the Pope accepted into the Vatican collection. Sara works in series' or 'collections', painting a body of work with common stylistic elements and colour palette, as with seasonal collections in fashion.
---
Sorry, there are no products in this collection.