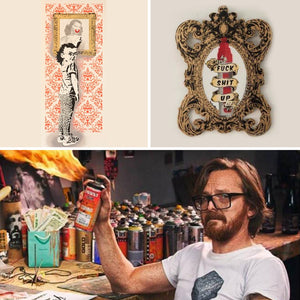 DOTMASTERS
---
Dotmasters has been painting the streets since the 90's; combining activism with art, using impeccably detailed stencils alongside freehand aerosol skills.  His "Unfair Funfair" is a Glastonbury festival highlight and he was a driving force in establishing the Nuart street art festival in Norway which also occurs annually in Aberdeen, Scotland. 
He kicked off 2019 with a spectacular solo exhibition in Paris followed by a  world tour which saw him paint public murals in places such as the UAE, Bali & New Zealand.   He was also once featured in an Oscar nominated film by another artist, which was about Exiting Gift Shops. 
---
Sorry, there are no products in this collection.