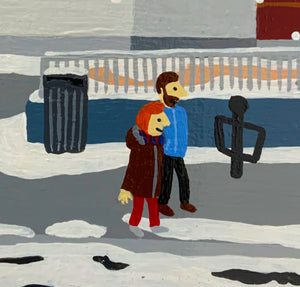 Jiem and Mary
---
"Mary Limonade from Belgium and Jiem from France have been working together for several years. Their first artistic connections were made by graffiti, in a free and wild way. From this shared passion comes their taste for drift, exploration, travels, and it turns out that they have a really special connection with the world around them.
The two self-taught artists develop a strong spirit of independence, through a great freedom of action and a wide range of practices. In addition to an important graphic and illustrative work in their drawings and paintings, on medium or on walls, they practice film photography, publishing and textile art. All their works exudes great freshness, freed from academic rules and the standards of representation. Whatever the mode of expression chosen, certain elements and themes are recurrent: travels, cities and their graphic elements, collective identities, underground cultures and their marginal practices, social interactions, love and romance.

---
Sorry, there are no products in this collection.