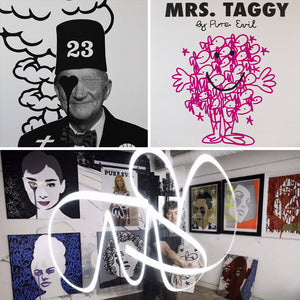 PURE EVIL
---
Charles Uzzell-Edwards is a graffiti and street artist known better known by the cheeky moniker Pure Evil. His tag of a vampire bunny rabbit was bore from the artist's feeling of remorse after shooting a rabbit in the countryside as a youth. 
Pure Evil was born in South Wales and studied fashion and graphics in London. After finishing he went to live in California to avoid the ruins of Thatcher's Britain. In the early 90's he was living on the West Coast and working as one of the designers for a clothing label called Anarchic Adjustment with Alan Brown and Nick Philip. He was producing screen-printed t-shirt graphics and became involved in the electronic music scene in San Francisco. As a result he attended many raves and ingested a lot of weapon grade Psychadelics.
ᅠ
Pure Evil's street art began in California, where he would paint DUMP BUSH on freeways and MURDERERS on gun stores. After 10 years in California, heavily influenced by West Coast graffiti artists like TWIST and REMINISCE and skate art, he returned to London and began painting weird fanged Pure Evil bunny rabbits everywhere. In the past five years he has exhibited worldwide in China, Russia, Mongolia, Brazil, USA, and all over Europe. 
In May 2012 Pure Evil appeared on the prime time BBC TV show The Apprentice, where he took part in an urban art task, this led to a huge increase in interest for his work.
For the duration of 2014 Pure Evil has embarked on ambitious project, 365 Street Art, promising himself he would paint, stencil or paste something up in public everyday for a year. Wherever he is, whatever the circumstances. Regularly posting photos on his Instagram, Pure Evil often leaves pieces of art as street drops for his loyal following to search for in a game of interactive hide and seek.
---
Sorry, there are no products in this collection.